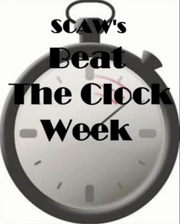 From Feb 12-19, 2012. To determine a number 1 contender for the SCAW Championship at Reckless Randomness 2012.
Iron Man pinned The Prince of Persia after the Steamroller. Time is 7:17.
Hellboy vs. Santa Claus ended in a double count out.
Doctor Doom pinned The Gladiator after the Doctor Doom Bomb. Time is 7:12.
Ghost Rider pinned Lance Burton with a schoolboy. Time ran out. Harry Potter distracted Burton.
Spider-Man vs. Homer Simpson was no contest. Chuck Norris attacked them both.
A promo for King was shown.
Edward Elric pinned Ichigo Kurosaki after the Sudden Alchemy. Time ran out. Ichigo puts his career on the line for one more match with Elric.
M. Bison was disqualified after Doctor Doom attacked Robin. Time ran out. Captain Marvel came in for the save.